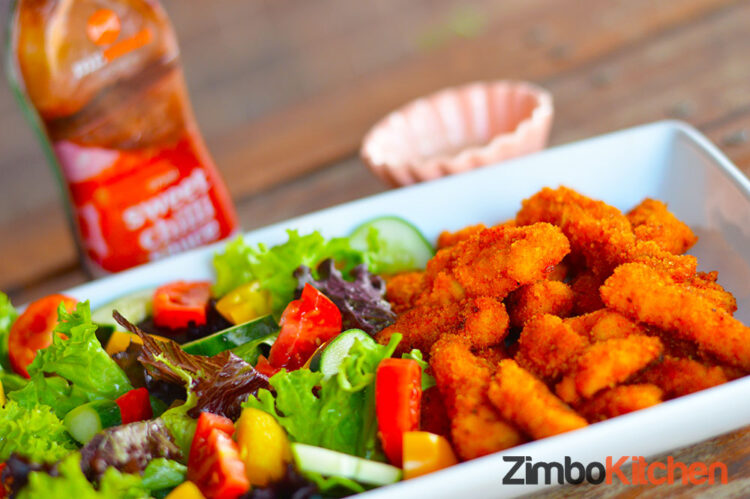 Homemade Sweet Chilli Fish Fingers
I remember fish fingers being a thing for us when I was younger! It was one of those treats you'd get once in a while and you'd be sure to savor every bite! They are great as an appetizer, or as part of a meal, that's for sure. I served these with some roast potato wedges, a fresh broad leaf lettuce salad with a sweet chili mayo dressing some white sauce.
Today we will be making our own fish fingers, using one of my favourite sauces- Mr Sauce's Sweet Chili Sauce. I promise you, I use that sauce in almost everything; as a condiment, as part of a marinade or as part of a salad dressing! You can also check out these Sweet Chilli Chicken Nuggets that I prepared using the same sauce.
These fish fingers are best served immediately so you enjoy the lovely crispy outer coating and the soft, tender fish on the inside. You can also take this time to learn How to make homemade bread crumbs (step by step) which you can use in this recipe by following that link. Let's get down to the cooking!
Get This
500 g Fish fillets of your choice

For the Batter

3 heaped tbsp flour

2 tbsp mayonnaise

1 egg

4 tbsp Mr Sauce Sweet Chilli Sauce

1 tsp salt

1/2 tsp paprika

1/4 tsp pepper

For the Breadcrumb Coating

1 1/2 cups breadcrumbs

1 tsp salt

1 1/4 tsp paprika

1/2 tsp pepper
Do This
Get your ingredients together. We begin by preparing the breadcrumb coating. Put breadcrumbs, salt, paprika and pepper into a bowl or deep plate. Mix until evenly incorporated, set aside.
Next, put the ingredients for the batter into a separate bowl. Mix until a smooth batter is formed and set aside.
Cut the fish into equal sized pieces.
Add the fish pieces to the batter and mix until each piece is coated by the batter.
Coat each fish piece with breadcrumbs and shake off any excess.
Heat oil in pan, add the fish and fry until golden brown (about a min – 2 min on each side). Enjoy with a sweet chilli mayo dip. Simply add 1 part mayo to 3 part sweet chilli sauce and give a quick mix.