8 Servings
~ 30 min
250g sugar beans (cooked)
1/2 medium onion, finely chopped
4 tbsp Mr Sauce Beefy Burger Sauce plus extra for drizzling
1 egg, beaten
3 tsp garlic
4 tbsp breadcrumbs
1 tsp salt
1 tsp curry powder
4 tbsp oil
1/2 cup flour for hand dusting
#ZimboKitchenWithMrSauce
Here's one more thing you can do with the humble sugar beans; turn them into a delicious burger! Yes burger! Sugar beans are a really great source of protein, this is well known. It has been said enough times that variety is the spice of life! One of the reasons people don't enjoy food especially made at home is repetition. Who enjoys repetition? Today we're beefing up (pun intended) the sugar beans using a simple but effective culinary weapon. I found a local condiment by Efoods Zimbabwe, in particular their Mr Sauce Beefy Burger Sauce, to be just what I needed to pull off this spin on your otherwise regular beans.
I have so far had a worthwhile journey putting a number of local products under the Mr Sauce stable to the test. Starting with these Chicken drums using their ketchup, followed by the Bean Stuffed Butternuts using Worcester Sauce, then came the Warm Salad with a Delicious Mustard Dressing and Mushroom Bolognese using their Tomato Sauce.
I also paired their BBQ sauce with some Mopane Worms and created some really tasty Chicken Nuggets using their sweet chilli sauce. As you will probably see when you checkout these different recipes and actually get to cook them as some have done, we have some really good locally made condiments. As a Zimbabwean foodie, I am really proud of this.
So here is the star of this exploration…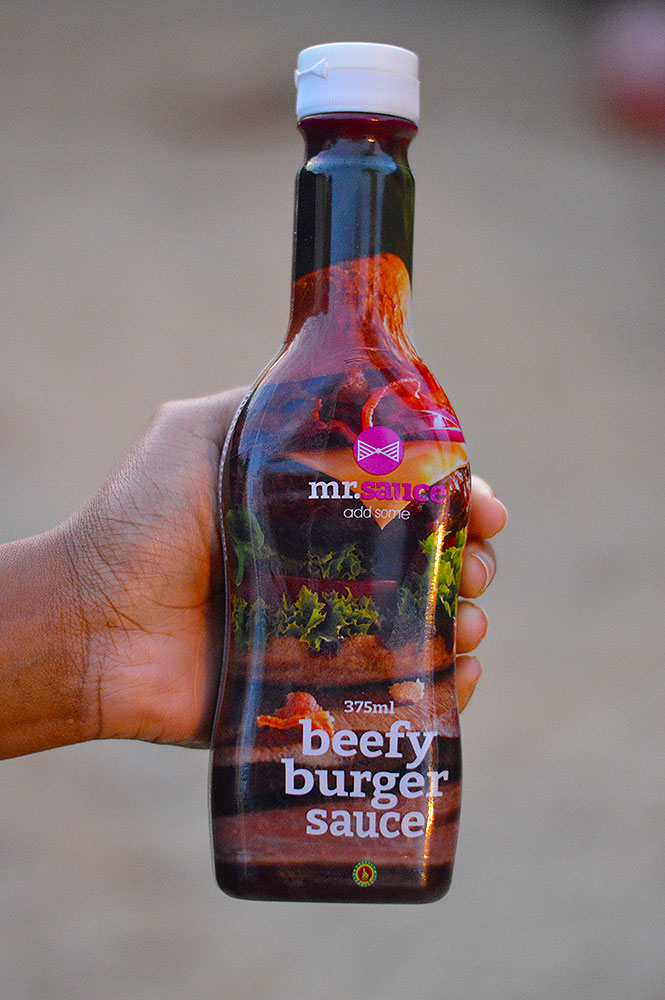 Some great value, for me, of this particular condiment comes from how it is vegetarian friendly, which makes it a great👌  partner for these bean burgers. Keep in mind that this condiment has no beef content in it of any nature. The beefy burger sauce adds a lovely rich flavour (a bit tangy and sweet at the same time) to the patties. Drizzle some more when assembling the burger for ultimate enjoyment! Oh Yum! Who dares look at sugar beans the same again after trying this out!
Let's get right to it …
Do This
Get your ingredients together. Put the sugar beans in a bowl. Using a vegetable masher, mash the sugar beans leaving them a little bit lumpy.
Add the rest of the ingredients excluding the oil. Mix until well combined.
Dust your hands with a little bit of flour. Spoon about 2 1/2 tablespoonfuls of the mixture into your hands and shape into a patty. Place on a platter. Repeat process until mixture is finished.
Cover platter and refrigerate for 15 minutes, giving time for the flavours to marry.
After refrigeration time drizzle some oil on an oven tray or a pyrex dish. Place the patties in the lightly greased tray and drizzle a bit more oil onto each one. Bake in oven at 180 degrees Celsius for 15 – 20 min. Enjoy!
Alternatively you may fry these in a pan if you wish. Taking care not to flip them too much as this may compromise the patty and it may disintegrate.